Visiting or staying in Japan during the Christmas season and don't know what to do?
December is a great season to visit Japan for Onsens, Skiing and of course experiencing how Japanese celebrate Christmas! There are many winter events, activities and romantic Christmas lights in Japan and it's going to be hard to decide which to visit or do. So, allow me to share with you some of the best things to do in Japan during this festive season!
How Japanese celebrate Christmas?
Christmas is often considered to be a celebratory event rather than a religious one. Alike Valentine's day, you often tend to spend Christmas and Christmas eve in Japan with your special someone, exchanging gifts and having a delicious meal with them.
Families or communities often host house parties and eat Kentucky Friend Chicken together! Why KFC you might ask? I believe it's because Colonel Sanders looks like Santa Claus, but it is more likely due to the strong advertisement KFC conducted during the '70s.
As eating turkey is not a common practice in Japan, KFC proposed and promoted that everyone should eat chicken instead. The campaign went extremely well and now a typical Japanese Christmas dinner consists of Fried Chicken, white cake with strawberries and wine/sparkling wine.
But, as a foreigner there is nothing special about eating KFC at home so, here are some of the top 5 things to do in Japan during the Christmas season that doesn't involve eating KFC!
1. Winter Illuminations
If you happen to be in Japan with your significant other, you will have to check out the beautiful winter illuminations. Considered as one of the most romantic winter activities, Japan offers a large variety of options you can choose from!  These are some of our personnel recommendations;
Aonodokutsu (Blue Cave) Shibuya
"Aonodokutsu"  is a Christmas light-up located in Yoyogi, Tokyo. The 6,000 thousand blue lights illustrate a majestic atmosphere you can't find anywhere else! Inside you will also find a shop called "Blue Parks" which offers food and drinks like a Christmas market in Europe. My favourite is the unique "Blue sparkling wine" and "Hot blue lemonade" which suits the background making it an Instagrammable moment.
Date: 29th of November 2019 – 14th January 2020
Time: 17:00 ~ 20:00
Venue: From Shibuya-Koen-Dori to Yoyogi Park
Website: http://shibuya-aonodokutsu.jp/
Yebisu Garden Place
Another great place for Christmas lights is Yebisu Garden Place which will be decorated with a 10m tall Christmas tree with 100,000 champagne gold colour lights. The area is great for shopping and dining and if you are a fan of Yebisu Beer make sure to save some time for the Yebisu Beer Museum too!
Date: 2nd November 2019 – 13th January 2020
Time: 17:00 – 22:00
Venue: Garden Place, 20-4 Ebisu Shibuya-ku, Tokyo
Website: https://gardenplace.jp/special/2019christmas/
Jewellumination in Yomiuri Land
For those looking for a family-friendly activity to do in the day with a slight Christmas touch to match the season, make your way down to the Yomiuri Land theme park. This year you are in luck as they are celebrating their 10th anniversary with more glitter and shine! It was designed by one of the best Japanese lighting designer Ishiki Motoko, so you are guaranteed a great time! (Not forgetting the amazing rides too).
Date: 24th October 2019 – 6th May 2020
Time: 16:00 – 20:30/Until 21:00 from 14-15th December/Until 16:00-20:00 from 6th January to 5th April 2020.
Venue: 2015-1 Yanokuchi, Inagi-shi, Tokyo
Website: http://www.yomiuriland.com/jewellumination/#/boards/jewellumination2019
2. Winter activities at Hokkaido
If you are a fan of Onsen and winter sports, Hokkaido is the place to be during the winter months. The northern island of Japan is famous for its soft powder snow and winter festival making it a winter wonderland!
A 20-minute drive from the city centre of Sapporo, you can find plenty of Ski resorts. But, if you have the time I will recommend heading over to Niseko which is less than a 2 hours drive away from Sapporo. The area is famous for its high-quality snow, making it a prime spot for skiing. After an exciting day of winter sports, you will also have the option of taking a sweet & relaxing rest in an onsen too.
If you happen to be looking for a trip during February, you need to make a way down to the Sapporo Snow festival too. This is one of the best winter festivals in Japan mostly due to its ambitious snow/ice sculptures! They even had a Star Wars-themed one back in 2015.
3. Shopping with Christmas Lights
Being the season of giving it is a great opportunity (or excuse) to go shopping for some last-minute Christmas gifts! Japan has tons of funky fashion items and quality products which I'm sure your friends & loved ones will appreciate. Majority of the large malls is likely to have Christmas decorations which will add further value into the whole trip!
Roppongi Hills & Tokyo Midtown
Considered to be one of the prime shopping areas of Japan, Roppongi, Tokyo offers two large scale shopping malls; The Roppongi Hills & Tokyo Midtown.
A panoramic view of Tokyo from Roppongi Hills
Roppongi Hills is Japan's largest integrated developments and offers high-end shopping, mouth-watering restaurants and bars. In winter I would recommend going up to the open-air Sky Deck and if the weather is good you might get a glimpse of a pearl white Mt. Fuji in the horizon.
Have a bubbly Christmas at Tokyo Midtown.
Tokyo Midtown is one of Japan's largest shopping complex, but it also offers cultural entertainment facilities such as the Santory Art Museum and Hinokicho park. Only a 10-minutes walk away from Roppongi Hills, you can consider visiting both of them together.
If you can't get enough of Japanese winter illuminations head down to Starlight garden located right next to it for a magical show of lights and bubbles. It's also free making it a very economical option after considering all the money spent after an intense day of shopping.
Date: 26th November – 25th December 2019
Time: 17:00 – 23:00
Venue: 9-7-1 Akasaka, Minato-Ku, Tokyo
Website: https://www.tokyo-midtown.com/jp/event/xmas/illumination/stlgarden.html
Yokohama Red Brick Warehouse
If you are considering a day trip out of Tokyo, we would recommend heading over to Yokohama in the Kanagawa Prefecture. Yokohama is a 1-hour train ride away from Tokyo main station and it has a history of being one of the first ports in Japan.
Although it might be too cold for an ocean breeze, Yokohama offers one of the most authentic Christmas Markets in Japan at the Red Brick Warehouse. In winter, this popular shopping spot transforms into a Christmas market which draws heavy inspiration from the ones you will find in Europe. The market offers German Food, fresh seafood, hot wine and more!
Date: 22nd November – 25th December 2019
Time: 16:00 – 21:00/ from 14th until 25th December 16:00 – 22:00
Venue: 1-1 Shinminato, Nakaku, Yokohama, Kanagawa
Official Website: https://www.yokohama-akarenga.jp/christmas/
4. Visit some of the chillest monkeys in the world
These wild snow monkeys have it all. No problems, no day jobs and they get to bath in an onsen in the snow every day.
The Jigokudani monkey park in the Nagano prefecture offers a unique opportunity to visit snow monkeys bathing in an onsen. According to research, it is the nature of these snow monkeys to soak in a hot bath as it makes them feel calm and relaxed.
Unfortunately, humans are not allowed to take a bath with the monkeys but, fret not as there is a 1300 years old historical onsen town called Shibu Onsen near the area too!
Snow Monkey: http://www.jigokudani-yaenkoen.co.jp/english/html/top_e.htm
Shibu Onsen: https://www.shibuonsen.net/english/
5. Tokyo Disneyland Christmas Event
Our last recommendation is mainly for those travelling with small kids! Tokyo Disneyland organizes a special Christmas event every year. Only 20-minutes away from Tokyo main station, the special event "Disney Christmas" offers an afternoon themed parade, a 15-meter-tall Christmas tree and a nighttime display of lights.
However, if you plan to visit Disneyland it will be very beneficial if you can check the occupancy during the festive season as it tends to be very crowded due to the December School holidays. If you are only interested in the night show, they also offer significantly cheaper night tickets!
Date: 8th November – 25th December 2019
Time – 22:00
Location: 1-1 Maihama, Urayasu, Chiba
Website: https://www.tokyodisneyresort.jp/en/tdl/event/detail/tdl_christmas2019/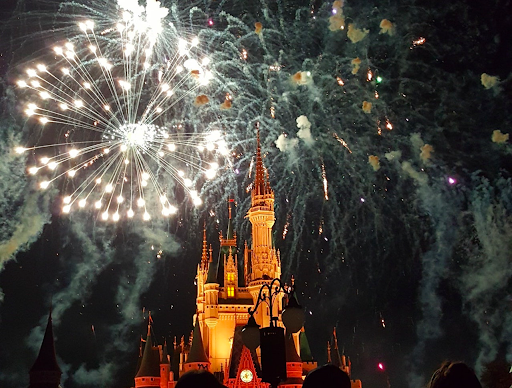 Summary
There are many things to do in Japan during this festive season and these are just some of the best ones we think that you would like! Lastly, as Christmas is not a public holiday in Japan, you need not fear that most of these activities will be filled with people (except for Disneyland) but, if you are worried you might want to consider booking beforehand too!
If you are staying for the new year that is probably when everything gets slightly more hectic as it is considerably more important for the Japanese people.
Share with us what you think about our list and follow us at Expat Japan Life for more articles about Japan. You can also follow us on Facebook, Instagram, and Twitter for blog updates and information about living in Tokyo!