Updated on September 17, 2021
Vaccine Passports are now available in Japan and are being issued by your local ward office. The Vaccine Passport is based on a similar certification system as the European Union COVID certificate and is the next step in facilitating smoother and safer international travel.
Continue reading to find out where this newly launched vaccine passport can be used, learn what benefits they have, and how to apply for the vaccine passport.
What is a vaccine passport?
The purpose of the vaccine passport is a document to prove when and which vaccine you have received to combat the new coronavirus infection.
Using the passport allows the holder to avoid some of the coronavirus entry requirements. For example, in Europe, the "EU digital COVID certificate" was introduced in 2021 July to help facilitate tourism and business travel.
Vaccine passports are not universal
There is currently no universal certification system, as the types of vaccines approved vary from country to country and there are differences in vaccination opportunities. Japan has created its own passport and negotiating with other countries for it to be accepted.
What are the benefits of a Japanese vaccine passport?
The Japanese vaccine passport, referred to as the "new corona vaccination certificate", has been introduced and applications started from July 26, 2021. The Japanese issued vaccine passport allows for easing travel restrictions in a growing list of countries and regions.
Currently, each is negotiated bilaterally. It is recommended that you apply early if you are planning on travelling soon, as more regions and countries are added.
Where can I use the vaccine passport?
As of August 11, 2021, Japan's vaccine passport is accepted in the following regions and countries:
The specific details of the exemptions/relaxation vary from country to country will be updated here as they change over time.
 

Country / region

Accepting the Japanese vaccine passport.

Vaccine Passport Benefits.

(September 16, 2021)

1

Austria
2
Belarus
Exemption from presenting a negative COVID test certificate.
3
Belize
Exempt from submitting negative COVID-19 results upon entry.

All travellers are still required to download the health check app within 72 hours prior to arrival.

4
Bulgaria
No obligation to quarantine after entering with documents with similar contents to the EU digital new Corona vaccination certificate.
5
Canada
Can assist travellers from some COVID mitigation measures on entry.
6
Denmark
7
Ecuador
Exemption from presenting a negative COVID test certificate.
8
Estonia
Exemption from PCR test.

Quarantine period required with or without vaccination

9
France
Exemption from presenting a negative COVID test certificate.

Application for the French "pass sanitaire " (QR code) allowing the entry into restaurants, etc… Please check here for more details.

10
Gabon
Exempt from quarantine measures.
11
Germany
Exemption from presenting a negative COVID test certificate.
12
Honduras
13
Hong Kong
Hong Kong ID holders or residents with a valid visa such as a long-term stay visa
14
Indonesia
A vaccination certificate and a negative PCR certificate are required for entry. A vaccination certificate also assists with entry exemption to the residence permit.
15
Italy
Exemption from voluntary quarantine after entry
16
Kosovo
A vaccination certificate needs to enter.
17
Lithuania
18
Malaysia
Home quarantine
19
Maldives
Shortened quarantine period.
20
Palau
One of the documents needed for entry is the vaccination certificate
21
Papua New Guinea
Allowed to enter the country, as all entrants are required to be fully vaccinated.

Travellers must still comply with entry requirements, including the need for written permission to enter Papua New Guinea and a negative PCR test result within seven days prior to departure. 21-day quarantine at designated hotels and undergo periodic tests for the coronavirus.

22
Poland
23
Saint Kitts and Nevis

24
Saint Vincent

25
Samoa
Full vaccination is one requirement needed for entry.
26
Singapore

Work pass holders and companion pass holders are required to be vaccinated in order to obtain an entry permit to Singapore, and it is necessary to show a vaccination certificate when boarding or entering the country. A Japanese vaccination certificate is accepted. In addition, on the premise that you have been vaccinated, you can apply for quarantine at home, etc. only if you are staying alone or if you are on the same course as a vaccinated family member (excluding children under 12 years old).
27
Slovakia
Vaccination more than two weeks prior to their arrival is exempt from a voluntary 14-day isolation period.
28
Slovenia
Voluntary quarantine exemption.
29
Sri Lanka
Those who received their second shot at least two weeks before their trip will be exempted from a 14-day quarantine period. However, they will still need to undergo tests for COVID-19 upon arrival at government-run quarantine centres or other designated facilities. Additionally, children between 2 and 18 years old who are accompanied by a fully vaccinated person must take a PCR test on the seventh day after entry if they are unvaccinated.
30
South Korea

Recognized as a "vaccination certificate" documents required to issue a quarantine exemption certificate.
31
Thailand
(Phuket, Koh Samui, Koh Phangan, Koh Tao only)
32
Turkey
Exemption from presenting a negative COVID test certificate.
33
United States (Northern Mariana Islands, Guam only)

(Northern Mariana Islands)

Vaccinated persons who hold a vaccination certificate can apply online at least 72 hours before arrival, and if the PCR test result at the time of arrival is negative, they can be quarantined at home or at the accommodation.

(Guam)

Those fully vaccinated with the approved vaccines are required to submit a valid passport, vaccination certificate, vaccination record card and oath upon entry. The condition is that it is not subject to forced quarantine.

34

Vietnam

Reduced quarantine period.
◎ Important information:
Additional countries and regions where the vaccine passport can be used and will be announced on the Ministry of Foreign Affairs website at any time.
In addition to relaxed entry measures, there may be other benefits where some countries require vaccine passports to use public facilities such as museums, events, transport, and private business such as restaurants.
You can still travel even if you do not have a vaccine passport.
The vaccine passport does not allow any exceptions for travel into Japan
Currently, the Japanese vaccine passport holders are NOT exempt from Japanese quarantine measures when returning to Japan.
– More about quarantine requirements: Guide For Quarantine Accommodation in Japan
How do I apply for the vaccine passport?
Applications started in each municipality from July 26, 2021 and are being accepted for the following groups of people:
People who have been vaccinated against the new coronavirus infection in Japan.
People planning on travelling overseas from Japan and can take advantage of relaxed COVID prevention measures by the partner country.
Not eligible for application (currently)
People who are not intending to travel overseas.
People who have been vaccinated overseas.
Each municipality issues the vaccination passport. (the city, ward, town, or village with a resident card). The application can be made in person at a local government office or by mail (requires a reply envelope and stamp).
Documents required for applications:
Municipality application form
Copy of valid passport (page with expiration date

*

) 
Copy of vaccination ticket
Certificate of vaccination or vaccination record copy
* As passport information is included on the vaccination certificate, it must be the same passport used when travelling.
Additional documents other than the above may be required by each local government. Please check their official website.
The certificate is in both Japanese and English and includes the following information:
Name
Date of birth
Passport number
Vaccine type
Dates of vaccination
The issuing municipality
How much does the vaccine passport costs?
There are no costs or fees (other than including an 84 yen stamp self-addressed envelope).
How long does it take to get the vaccine passport issued?
Most cities, wards, towns and villages usually take about one week to 10 days after receiving a set of application documents, although in some areas it may take up to one month.
How long is the Vaccine passport validity for?
There is no expiration date on the vaccine passport at this time. In the unlikely event that it is lost, it can be reissued. However, the number of sheets that can be issued with one application is one. Japan is also creating a digital passport in the future.
What are re-entry requirements and quarantine when returning to Japan with a vaccine passport?
At this time, there is no relaxation of immigration restrictions or exemption from quarantine in Japan for any vaccine passport, including the Japanese issued one.
Related information:
Where can I get more information on the vaccine passport?
● General questions regarding the vaccine passport system
Call Center of the Ministry of Health, Labor and Welfare: 0120-761-770
● Ministry of Health, Labor and Welfare website:
Stay at MetroResidences Apartments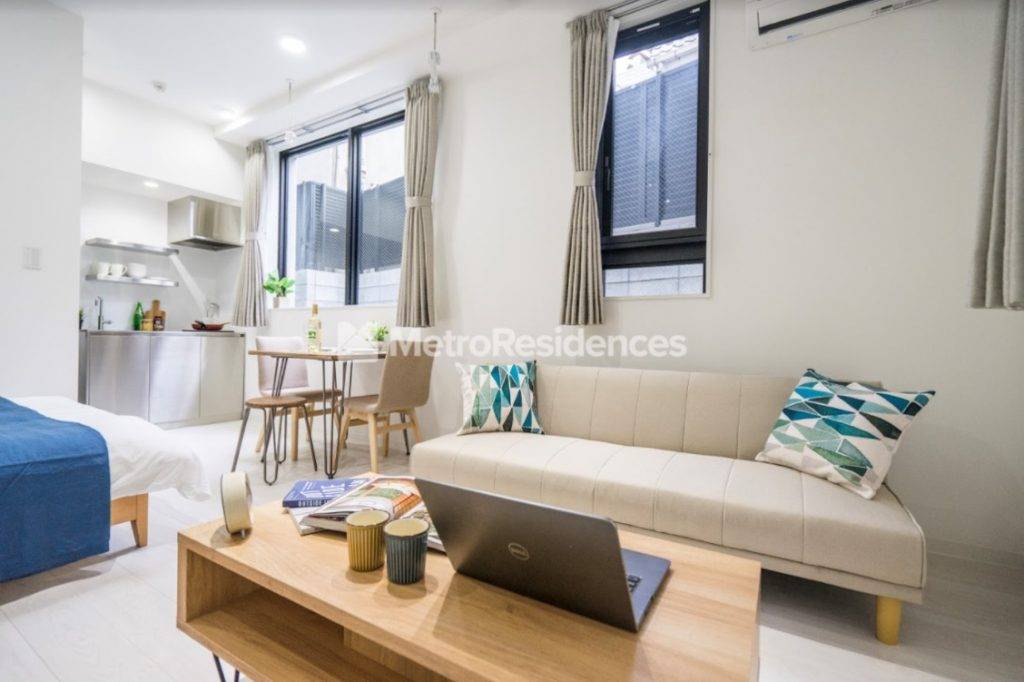 At MetroResidences, we offer over 2000 serviced apartments in Tokyo. We offer the following types of apartments:
– Weekly apartments that cater to travellers looking for self-quarantine packages with airport transfer start from:
9 nights plan ¥78,500~
11 nights plan ¥87,000~
– Monthly serviced apartments where the minimal rental is 30 days – perfect for those looking for a temporary apartment.
– Residential rental for > 1-year apartment rental in Tokyo. Our expat agents specialize in the quality mansion and tower mansion in Tokyo 5 cores wards.
We have brand new apartments that are more spacious than a hotel and comes with a kitchen and washing machine, making your stay relax. Utilities and WiFi are included in the price and can be used immediately after check-in.
Choose from studios, 1 bedroom and 2 bedrooms. More information on room types can be found on the MetroResidences.
Quarantine Packages in Tokyo – Rooms are limited. Find now your comfortable room.
>> Self-Quarantine【Ride & Stay】Package Offer <<
We are happy to help you! : Contact us
こちらもおすすめ


Follow us on Facebook, Instagram and Twitter to learn more about MetroResidences.