While Tokyo is often only seen as the bright neon lights of Shinjuku or the scramble crossing in Shibuya, central Tokyo is a far more complex and historical place.
This is where the real ancient city of Tokyo has morphed itself into the bustling metropolis, where every corner could either be a sleek modern high rise or a centuries-old temple.
Why near Tokyo Station area is the good place to live in Tokyo?
The most important part around Tokyo station is, of course, the imperial palace. The imperial family residence is considered the exact center of Tokyo. While tours to the actual palace are extremely limited, the grounds are expansive and free of use to the public.
The imperial palace is the most famous route for many joggers or runners training for marathons. Since the imperial family has resided here for most of Tokyo's modern life, there are many businesses and amenities tailored to a more luxurious lifestyle while maintaining the rich history of fine Japanese craftsmanship.
What is Tokyo Station area known for?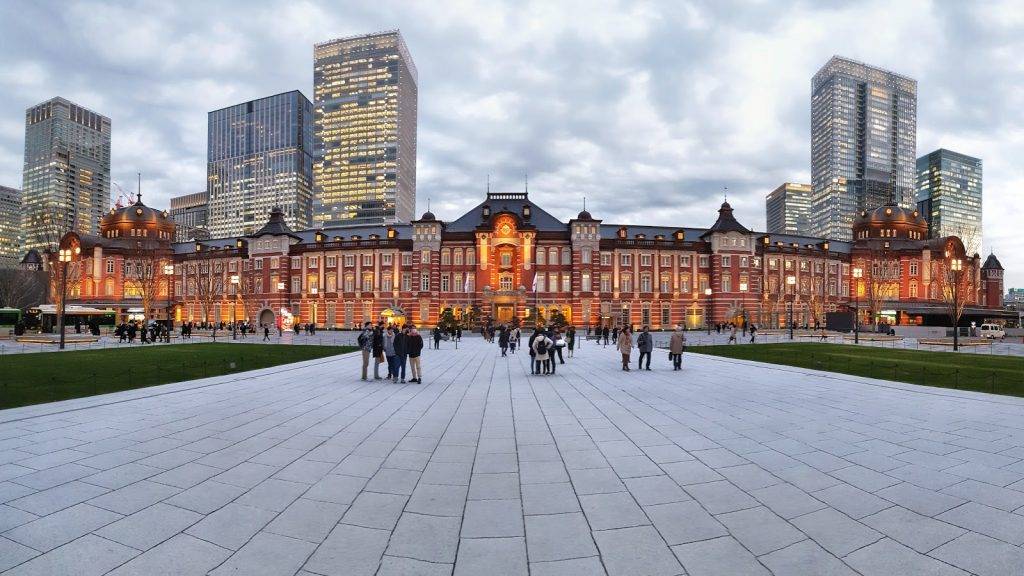 Tokyo Station itself is a very historic place. The brick building on the western side of this massive station is one of the most iconic buildings in Tokyo, being rebuilt and remodeled several times since its construction in 1914.
This station is the busiest station in Japan, and is the main hub for bullet trains and special expressways that need to stop in Tokyo. This hub means that many businesses in turn headquarter here for easy access throughout the corridor that turns into Ginza, then Shimbashi.
This is an ideal location for an international business person looking for convenience to and from the airport as well.
Tokyo Station area shopping, eat, nightlife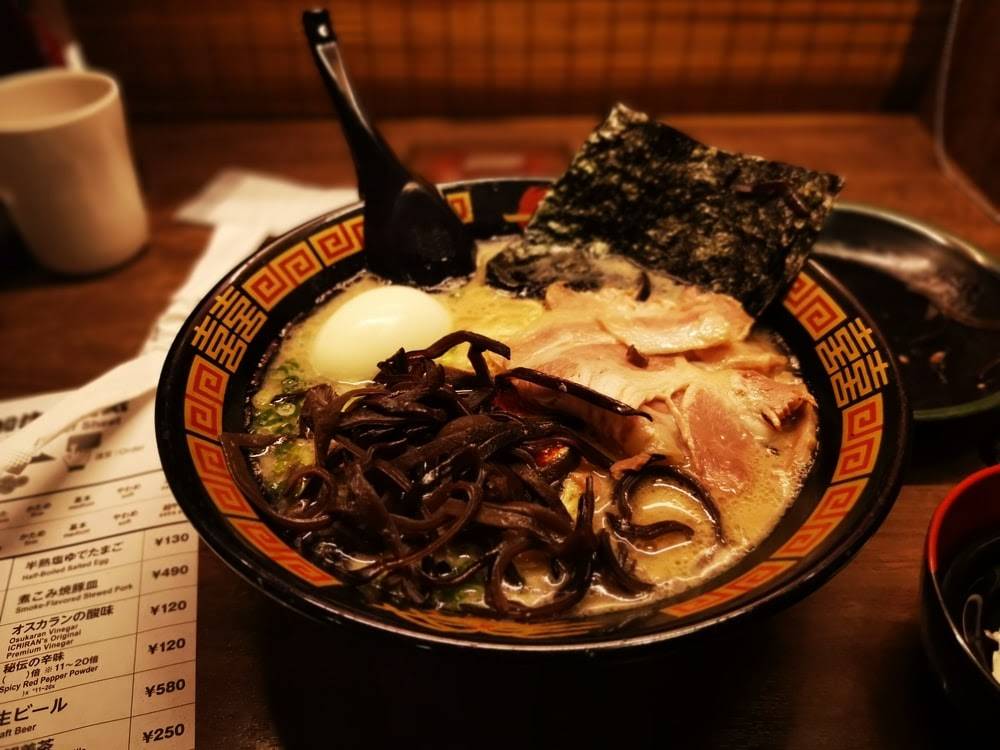 Even better, the Tokyo station itself is filled to the brim with shops and restaurants. There are metres and metres of underground tunnels, all lined with everything from small boutiques to convenience stores, as well as some of the best eats around.
Thousands of businesspeople come through this station space every day, so you're guaranteed food that's decently quick, reasonably priced, and undoubtedly tasty. The small tunnel containing ramen includes classics like Ippudo, as well as the first vegan ramen in Tokyo!
Tokyo Station connection
Tokyo Station is named for the city because it's considered the very heart of central Tokyo. This train station is number one in Japan for a reason– over 4000 trains use this station EVERY day!
This area is one of the most convenient places in Tokyo in that just about every train line that crosses Tokyo goes through this station. Tokyo station itself is massive, so it may be a little difficult to find your exact route through the underground maze.
Shinkansen Lines:
Tokaido Shinkansen
Tōhoku Shinkansen
Yamagata Shinkansen
Akita Shinkansen
Jōetsu Shinkansen
Hokuriku Shinkansen
JR Lines:
JT Tōkaidō Line
JU Ueno–Tokyo Line
JK Keihin–Tōhoku Line
JY Yamanote Line
JC Chūō Line
JO Sōbu Line (Rapid)
JO Yokosuka Line
JE Keiyō Line
Tokyo Metro:
Marunouchi Line
Access:
・Shibuya – 25 minutes by Yamanote Line
・Shinjuku – 15 minutes by Chuo Line
・Roppongi – 23 minutes by Marunouchi Line, with a transfer to the Hibiya line
・Ginza – 2 min by Marunouchi Line
・Haneda International Airport – 24 minutes by Keihin Tohoku line, with a transfer to the monorail at Hamamatsucho
・Narita International Airport – 1 hour by bus, 52 minutes by Ueno-Tokyo line train with a transfer in Ueno to the Limited Express Skyliner
Renting an apartment in Tokyo
Moving to Tokyo, one of your first concerns is probably regarding a place to live. One of the easiest ways to find one is probably by using a traditional hotel which tends to be often costly. We, therefore, propose the usage of a Serviced Apartments due to its more affordable prices with the other benefits summarised below;

・Fully equipped with furniture and daily electronic devices.

・Less upfront cost of renting (Most Real Estate Agencies in Japan tend to charge expensive initial costs before moving into an apartment).

・Often provide concierge services like hotels.
Routine housekeeping services.

・All-inclusive rent (Utility and internet fees are all included in the rent)

・A Guarantor or a Rental Guarantor is not required.
Best serviced apartments in Tokyo Station area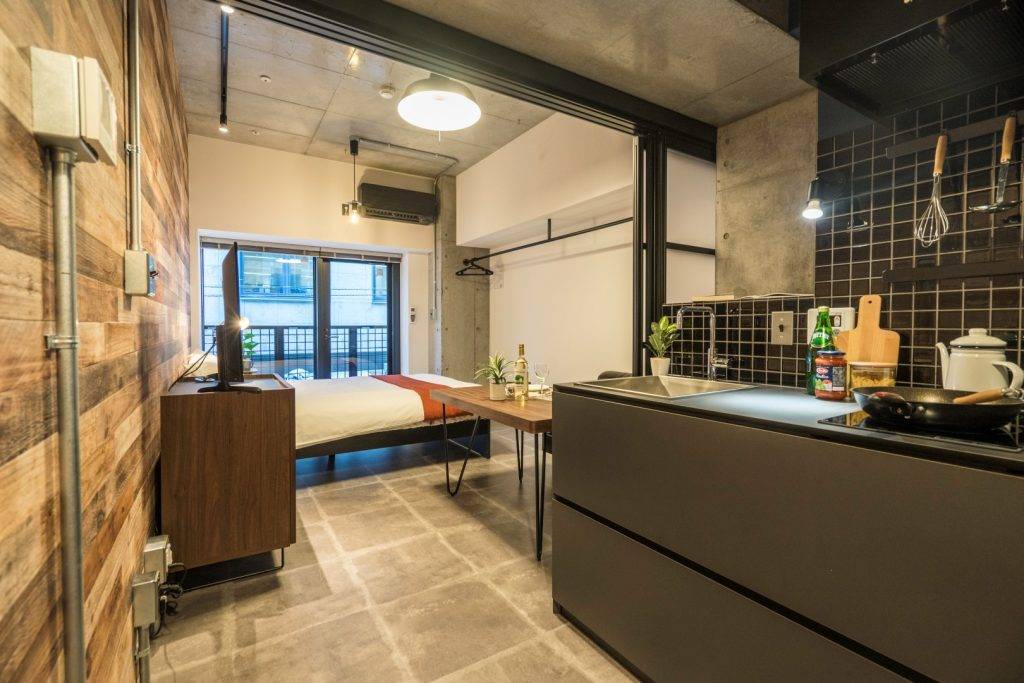 Tokyo Station area apartment: Terrace Ao
This beautiful studio is excellent for a couple or an expat looking for a tasteful space. The modern touches and excellent design make this feel far more like the kind of studio you'd find in manhattan than right in Nihonbashi.
With a fully equipped kitchen and a washing machine, this beautiful, safe space is ready for move-in!
This apartment is only 4 minutes from the main JR Sobu line station and 6 minutes from the metro.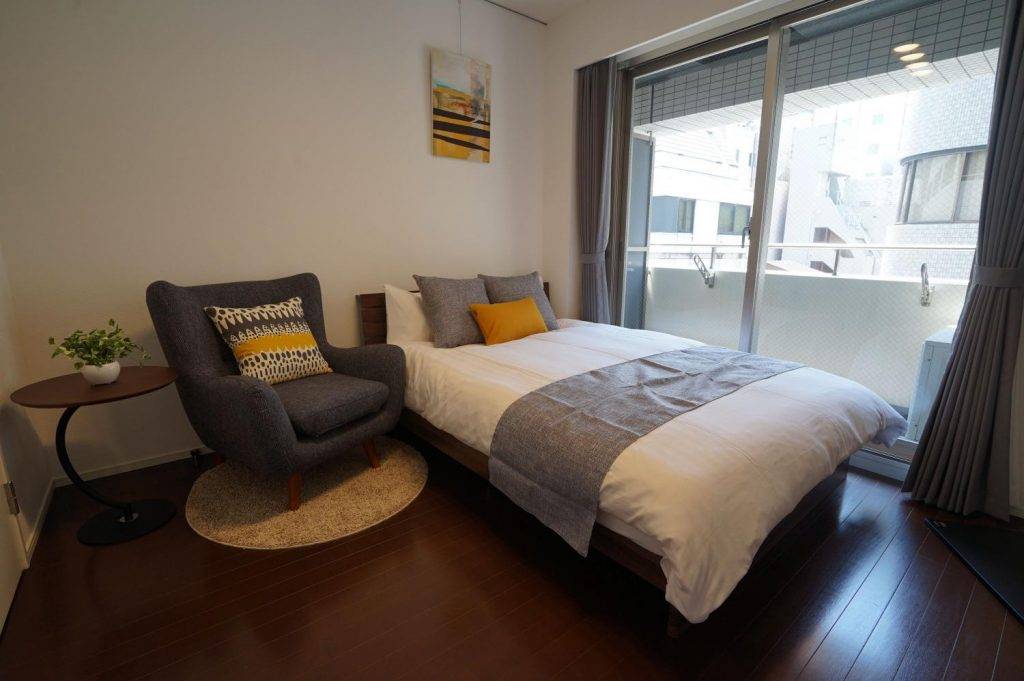 Tokyo Station area apartment: Galicia Ginza East
If you're a sushi fanatic, this is the spot for you. Located just 2 minutes walk from Tsukiji station, you'll find the best sushi in town right at your fingertips!
Even though the actual fish market has moved to Toyosu, the restaurants remain so they can continue their traditions for many years to come.
A small washing machine is also included. This fully-furnished cozy little studio is a great find for someone who likes to come home to comfort and sunshine.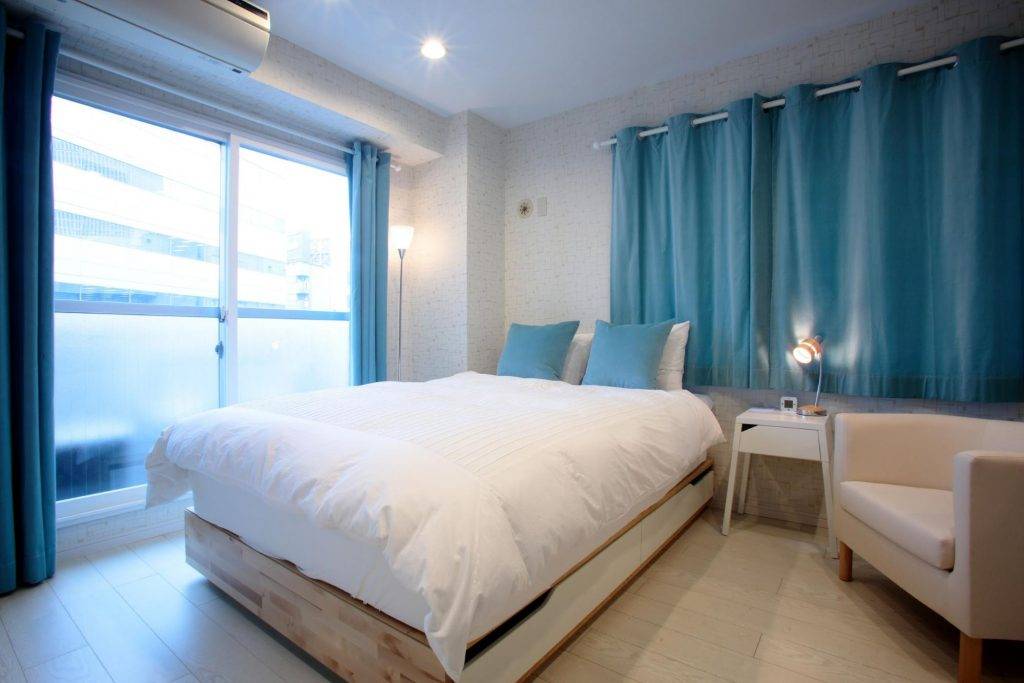 Tokyo Station area apartment: CK Hatchobori
This roomy blue dream is great for a more mature couple looking for a small but well-appointed apartment, with excellently coordinated interior design. This unit sacrifices bathtub space for an actual open kitchen and a small dining table.
Hatchobori is on the Hibiya Line, making it perfect for those commuting into the uptown business districts like Roppongi and Akasaka.
There are many convenience stores and supermarkets around this apartment as well.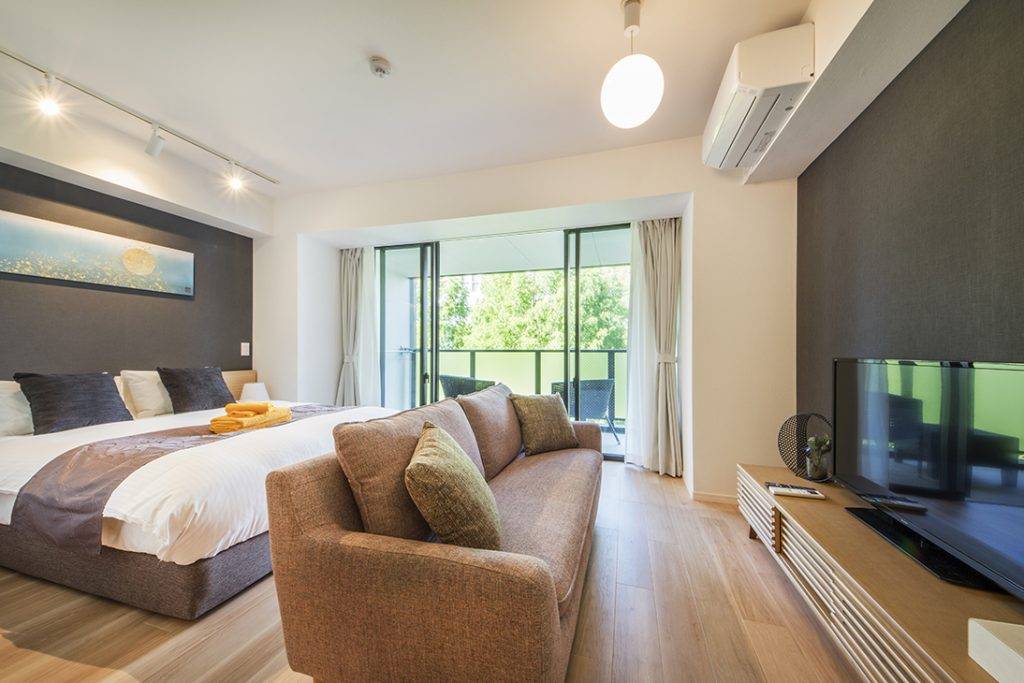 Tokyo Station area apartment: Garden Terrace Ginza East
If you need a little more space and are looking for the best possible apartment when you stay in Tokyo, you won't get much better than this.
This beautiful 2 bedroom apartment is built like a hotel suite, but with a dining set for four and full kitchen. The balcony makes it easy to enjoy drinks in the summer, and with one of Japan's major shopping districts literally right outside your door, you'll be spoiled with the amenities high end living in Tokyo can offer.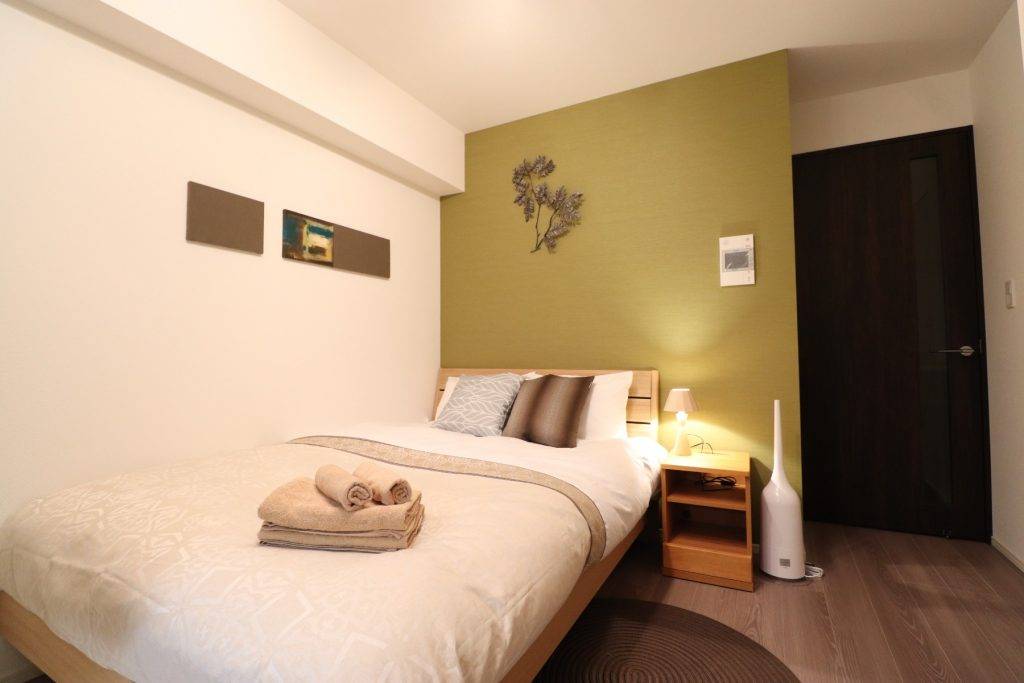 Tokyo Station area apartment: Xebec Otemachi
There is simply no beating this great location for a serviced apartment near Tokyo station. Just a five-minute walk from Otemachi station, this simply appointed space is great for someone looking for an easy, low maintenance spot to rest their head close to work and play hubs.
Just think– you could be drinking wine and starting a bath less than 15 minutes after getting off at Tokyo station!
Recommended Area near Tokyo station
Best Serviced Apartments in Ginza
Best Serviced Apartments in Nihonbashi
Summary
What is the Tokyo Station neighborhood like?
Tokyo station is one of Tokyo's most convenient places with a vast number of train connections (JR, Metro, Shinkansen).
There are many areas around this station that we've mentioned, and many are either shopping or business districts. While they may seem boring by day, many pockets and small alleys in this district still come alive at night, restaurants and bars that pop up to serve tired and hungry office workers in a slice of old Japan.
These areas, however also boast a quiet that often misses the uptown hubbub. These stately districts are excellent for young and mature renters alike, and with serviced apartments, you can't go wrong!
MetroResidences serviced apartments include:
・All-inclusive rent (Fully furnished, daily electronic devices, utility, and WiFi fees: free wifi!)
・Guarantor/Rental Guarantor, the upfront cost of renting are NOT required
・Routine housekeeping services
If you are looking for more information about serviced apartments or monthly mansions in Tokyo, MetroResidences is here to make sure your living situation is convenient, safe, and easy. Contact us!
You can follow us on Facebook, Instagram, and Twitter for blog updates and information about living in Japan!